←
→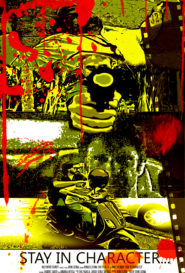 Stay In Character
"The not even remotely true autobiographical story of Hollywhut!? Films"
A dark comedy of two friends' quest to complete their short film in 48 Hours by any means necessary.
Directed by
John Licona
Written by
John Licona
Ronald Licona
Eric Manuel Padilla
Nestor Cabrera
Orlando Llanes
Sharbel Saker
Starring
Ronald Licona
Eric Manuel Padilla
Featuring
Mike Guzman
Sharbel Saker
Nestor Cabrera
Amanda Ortega
Minami Sakamoto-Padilla
Doug Pillep
Brittany Olmo
Orlando Llanes
and
John Licona
Producer
John Licona
Cinematography
Serge Taveras
Editing
Eric Manuel Padilla
Sound Engineering
Eric Manuel Padilla
Assistant Sound Engineer
Minami Sakamoto-Padilla
Makeup Artistry
Brittany Olmo
Stunt Driver
Minami Sakamoto
Bust This Bust That
Performed by Professor Kliq
Closing in On The Mysterious Orb
Performed by SpaceSlab GO!
Rage of a Dead Dream
Performed by plartform
Special Thanks
ALL MY LASER BOMBS!