←
→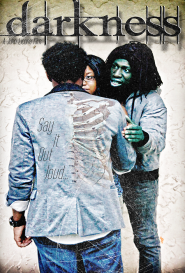 Darkness
A supernatural being stalks and terrorizes a young woman in an attempt to get her to succumb to its will.

Enjoy the film with Director's Commentary annotations.

Javon Wiggins gives us a backstage tour of his accommodations on the set of Darkness. Nothing but the best for the cast and crew of a Hollywhut!? Films production.
Writer, Director, Producer
John Licona
Starring
Javon Wiggins
Anne Jeudy
Christopher Bellevue
Mike Guzman
Director of Photography
Serge Taveras
Editor
Serge Taveras
Composer
John Chavez
Sound
Eric Manuel Padilla
Animal Wrangler
Quisqueya De La Rosa